Proven to have a statistically significant impact on learners' vocabulary, the intent of Bedrock Learning's curriculum is to improve the elements of language that are crucial to reading comprehension and communication across the curriculum.
Bedrock Learning is a digital resource that teaches and assesses Tier 2 vocabulary, Tier 3 vocabulary and grammar in a way that is personalised to every learner and gives you the data you need to monitor this crucial area of teaching and learning.
What does the curriculum cover?
Bedrock Vocabulary teaches thousands of Tier 2 words, through interactive lessons that all begin with a rich and authentic text.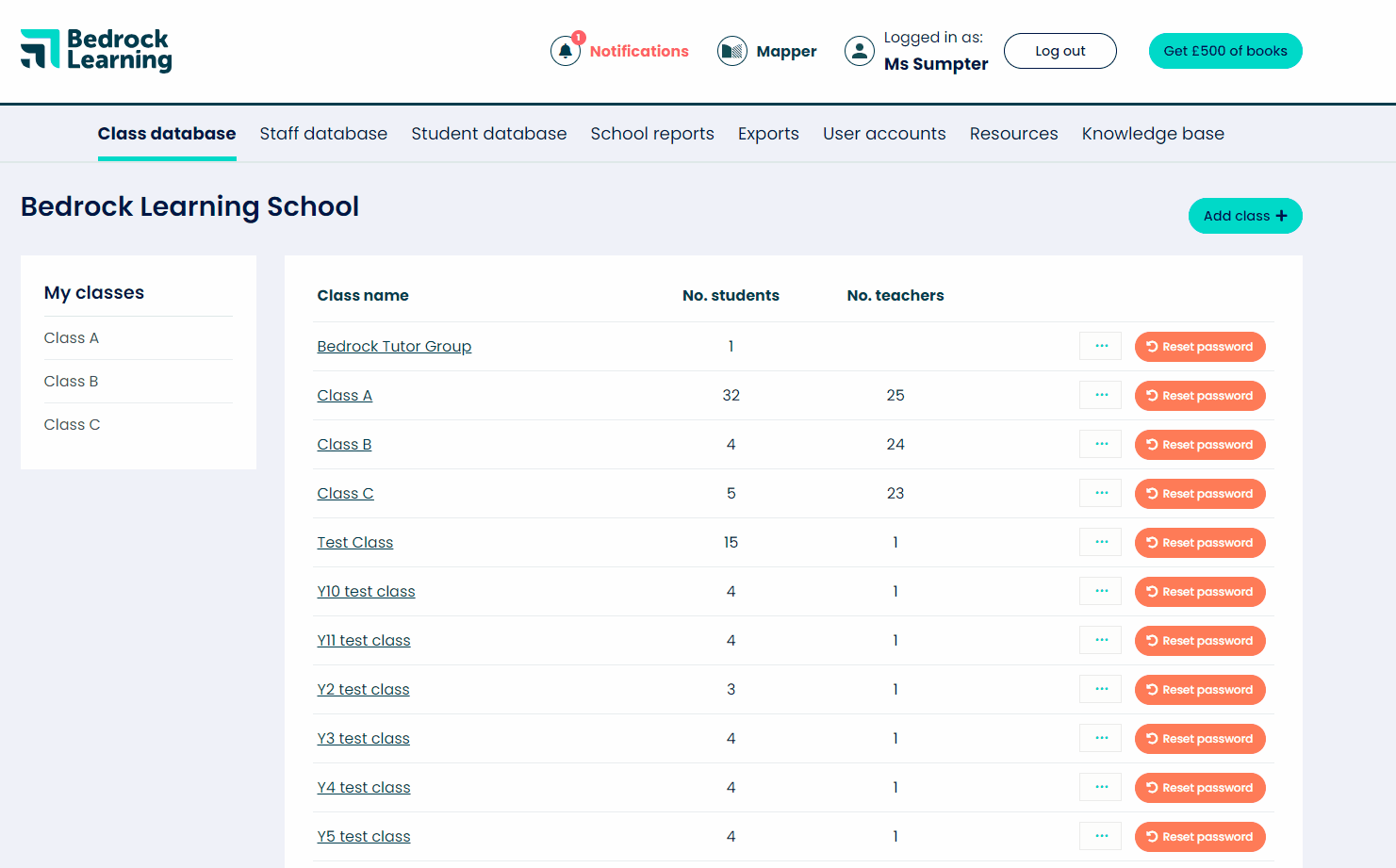 Bedrock Grammar is a linear, knowledge-rich curriculum that explicitly teaches grammar. You can see the curriculum overview here. As with Bedrock Vocabulary, every lesson begins with an authentic text that demonstrates the grammar item in context, before learners embark on an interactive learning sequence that ensures mastery of each grammar item.
Bedrock's subject-specific curriculum covers around 38,000 subject-specific terms, across 45 different subject areas, for key stages 1-5. Through our reteaching algorithm and research-driven learning sequence, the curriculum explicitly teaches and assesses the keywords of the topics you're teaching, ensuring mastery of the language that is crucial to accessing learning across the school.
How do I log in for the first time?
Your Bedrock lead teacher shares your username with you.
Go to app.bedrocklearning.org
Enter your username
Click on 'Forgotten your password?'
You will receive a temporary password via your email inbox
Login using this temporary password.
Click on your username at the top of the screen
Change your password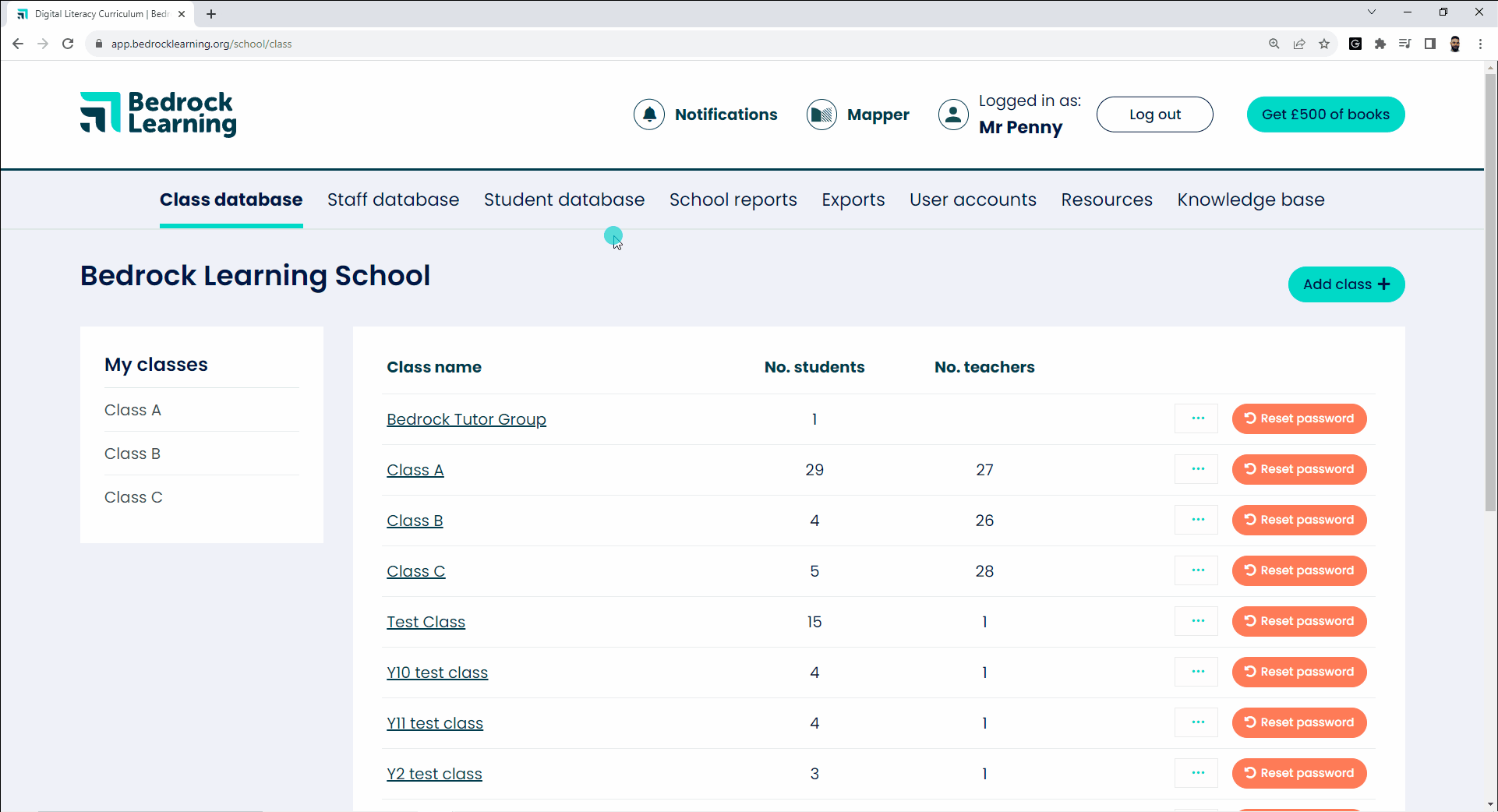 How do I use it?
As a teacher, you have your own dashboard with a unique username and password. You can also use Single Sign On (SSO) if you're a Google or Microsoft school.
STEP ONE
Track usage: Consistent usage results in higher rates of progress.
From your teacher dashboard, you can track usage.
If your school asks learners to complete a certain number of points per week, you can track usage via the 'Weekly engagement' report.

If your school asks learners to complete a certain amount of time on Bedrock per week, you can use the 'Time spent' report.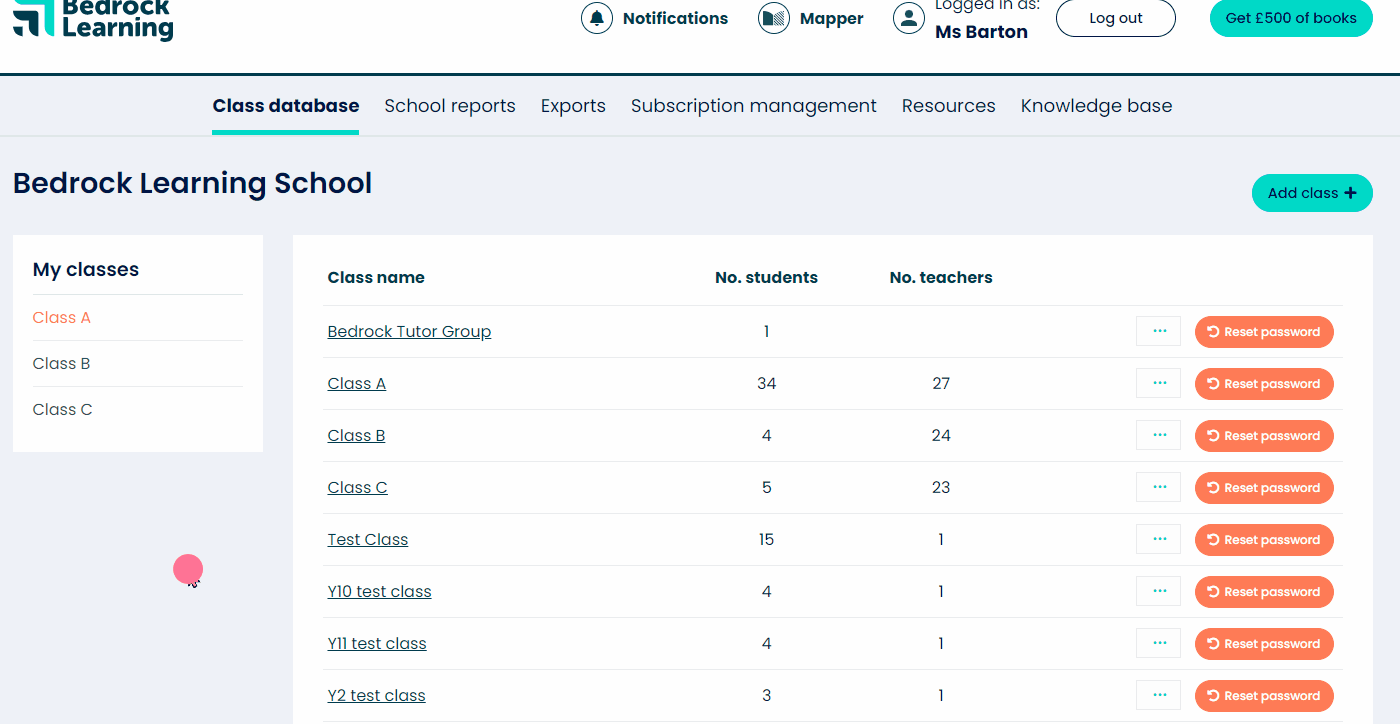 STEP TWO
Use the data to inform classroom teaching
From your teacher dashboard, you can also see which words/grammar items your students are learning. Access the 'Class knowledge trends' report. This report displays the words that the school/class are learning on each block at any given time. Knowledge trends data is calculated based on 50% of pupils meeting any of the three criteria, for example, if a word appears in the 'words we are learning' column, it means 50% or more of the learners in your class who are in that block are currently learning that word.